Online Review Sites Businesses Should Track
Top customer review websites
As a business owner, you would like to choose a platform which is reliable and brings traffic to your listing. So, you probably ask yourself a question: What review sites are crucial for your online reputation? When the time is scarce and it is important to define priorities. To help you, we analyzed the biggest and most popular websites where users review and rate service-based businesses.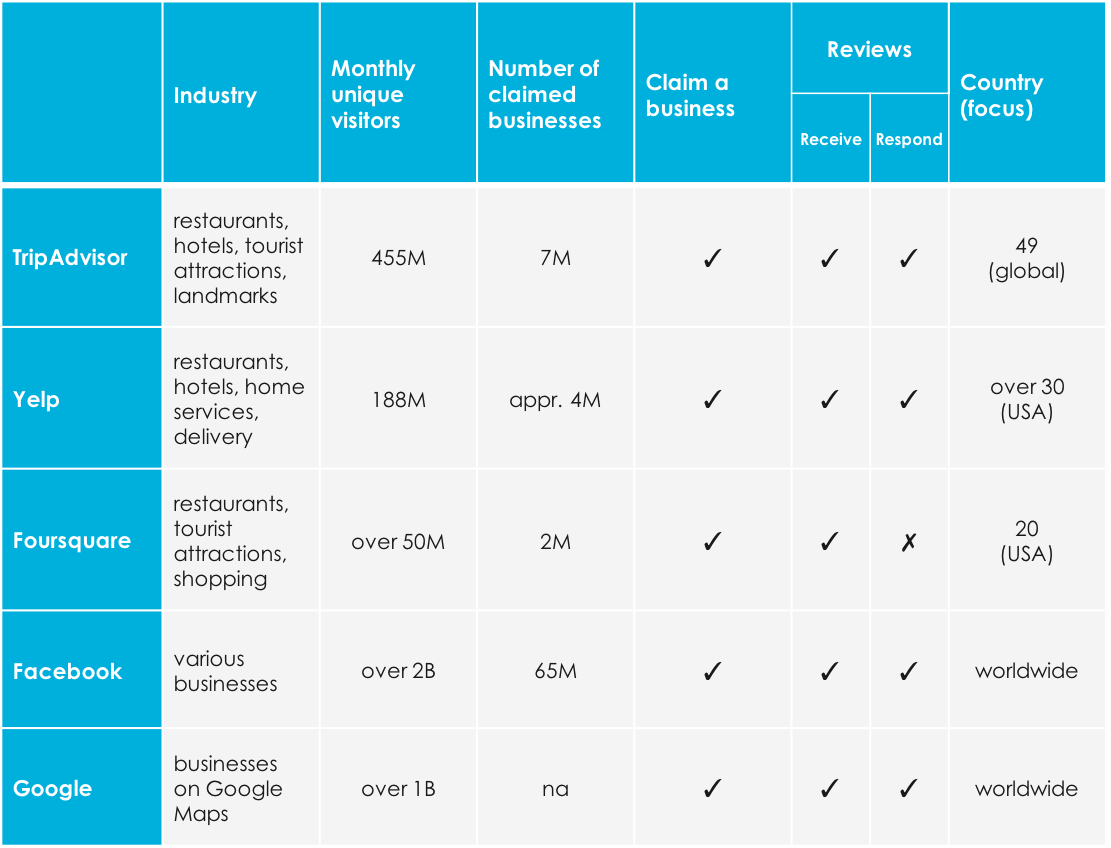 Sources: TripAdvisor | Yelp | Foursquare | theverge.com | Facebook | geomarketing.com
TripAdvisor, an early adopter of user-generated content, holds a unique library of customer reviews in the travel sector and therefore for a long time has been considered the largest review website when it comes to accommodation, restaurants, attractions, and destinations all over the world. In comparison to other websites which focus entirely on user reviews, for example, Yelp, TripAdvisor has by far bigger monthly audience and more local businesses listed.
TripAdvisor ranks as one of the most trusted sources for travel planning, ahead of personal recommendations. Considering TripAdvisor's impact on local businesses' online reputation, it is a must to claim and optimize your business listing on TripAdvisor and respond to online reviews there.
"TripAdvisor, Google, and Facebook have huge audiences, impact SEO and make a difference in your online presence."
Yelp publishes crowd-sourced reviews about local businesses from restaurants to home services and now also has a reservation feature Yelp Reservations, making competition to OpenTable. Although Yelp is operating in more than 30 countries, the majority of site visitors come from the US.
It is possible to claim your business listing and respond to reviews on Yelp. However, there are certain facts you need to know about Yelp's review policy. Yelp discourages businesses to actively ask their customers for reviews, explaining this by the fact that businesses are inclined to only target happy customers, which leads to biased ratings. Yelps' recommendation software highlights reviews prompted by businesses and may not post it at all. This created a challenge especially for small businesses that would like to build up their SEO and strengthen online presence. Our recommendation is to let your customers know that you are on Yelp, for example, by adding a Yelp button on your website or email.
Foursquare uses location intelligence to provide personalized recommendations of places to eat, drink, shop, and visit that are near a user's current location. Users can share their experience, post pictures and leave "tips" on any Foursquare business listing. As a business owner, you can claim and manage your listing on Foursquare which gives access to free tools, for example, updating your business information, adding photos and tips, and creating "Specials". At the moment, it is not possible to respond to customers' feedback.
Social media is a popular review resource
Social networks have become another popular platform for the users to leave their reviews about companies. More and more businesses create their profiles to be able to interact with their customers and attract more followers. By the sheer size of the user customer base, Facebook clearly dominates other social platforms and therefore is often the preferable social channel for many brands. There is a big advantage for the users as well. Since many users are already on Facebook, it is extremely easy for them to find, rate or review the business of interest.
In order to collect customer reviews on Facebook, first, you need to activate Reviews on your Facebook page.  You can respond to online reviews if you are logged in as the administrator of your Facebook page. We recommend doing this actively, as social networks like Facebook have significant SEO power and can impact your search engine ranking.
In the meantime, Google starts to threaten the position of TripAdvisor and Facebook in the realm of user reviews and local businesses ratings. Google My Business has become the main tool where business can claim and manage their listings across Google. Having your business on Google Maps makes it easy to find in a local search, rate and write feedback. Google does not disclose the current number of claimed listings. What we know is that monthly audience of Google Maps reached 1 billion users globally, making Google Maps the geo-service of choice.
Google continues to grow fast and improve its offerings in the travel sector encouraging users to leave reviews and offering Local Guides incentives to contribute to the community. It has never been easier to write a review; besides it is now possible to create lists of favorite locations and to share them with family or friends. For businesses, it's crucial to have a Google My Business account and to track and respond to reviews on Google. As Google reviews are directly linked to the search engine, the reviews, or the lack of them, impact rankings, especially when talking about local SEO.
Having a winning combination of user-generated content and geolocation data, Google offers one of the fastest-growing services on the list, making competition to social networks like Facebook as well as review websites like TripAdvisor and Yelp.
If you run a restaurant, we recommend being present on the top review sites listed above. However, it is important to know that there are other big players such as Zomato and OpenTable.
Sources: Zomato | OpenTable
Zomato, a restaurant search and discovery service with the headquarters in India, has grown in popularity and expanded through 24 countries in the last few years. Restaurant owners can claim their business listing on Zomato and respond to customer reviews.
OpenTable owned by the Priceline Group is an online restaurant reservations platform where users can find information about a restaurant, read (and share) reviews, and book a table. Restaurants can use their Electronic Reservation Book, a solution for reservation and table management as well as email marketing. Business owners can't respond to customer reviews publicly on OpenTable; but if a diner provides an email address, they can reach out to him/her directly.
Sources: Booking.com | Expedia | HolidayCheck | skift.com
Beyond TripAdvisor, top travel review websites are Booking.com, Expedia, and Hotels.com. TripAdvisor, having the largest base of crowd-sourced reviews, is mainly used for travel research, in comparison to the leading online booking agents.
A big advantage of these websites is that users can read the online reviews and book a hotel without leaving the platform. Moreover, the customer reviews are authentic since, in order to be able to post a review of a hotel, a reviewer must have made a booking through the booking engine and stayed at this particular hotel. Having your hotel registered at Partner Center of Booking.com or Expedia Partner Central (for Expedia and Hotels.com) allows you to manage your listing on the sites and publicly respond to your customers' reviews.
In this article, we discussed top customer review sites and tried to answer a question "What platform to focus on?". The answer is complex. With a variety of review sites to choose from, you should have a comprehensive strategy for online review management. It's important to have the big players covered. TripAdvisor, Google, and Facebook have huge audiences, impact SEO and make a difference in your online presence.
Businesses are in a position to decide which review sites to track. Make sure you spend more time on the platforms which bring valuable traffic to your listing and attract more new customers. Once you've chosen the platforms, don't forget to respond promptly to all customer reviews there.
What review sites do you focus on? Do you have any recommendation? Share with us in the comments below.
How good is your business?
We calculate your Online Reputation Score based on your customer feedback.
Want new articles before they get published?
Subscribe to our Awesome Newsletter.
About the Author
Natalia is a Co-Founder of re:spondelligent. She is passionate about helping businesses manage and respond to their customer reviews and loves sharing her industry and marketing knowledge to help brands succeed.