Voice Search for Hotels and Restaurants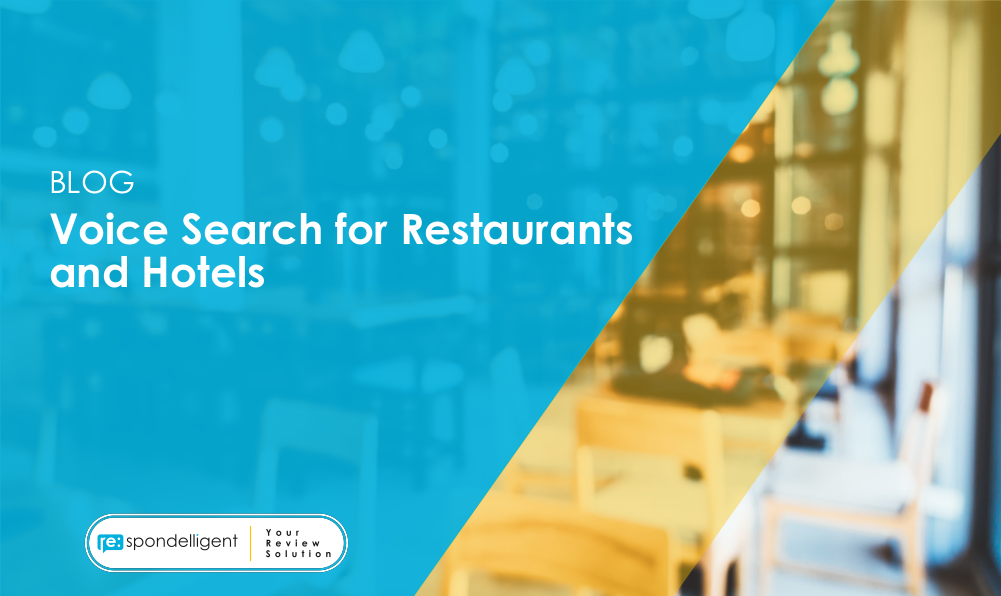 H ey Siri, how do I optimize my website for voice search? In this article, we will answer the most common questions about voice search. You will learn the basics about voice search and get hands-on tips and tricks for your hotel and restaurant. 
The smartphone has changed the way how we are searching for information on the internet.
You have all the information you need in the palm of your hand. So if you would like to find a new hotel or restaurant, you will most likely use your smartphone.
Today, however, people search the Web more and more often through spoken voice commands rather than typing. 
Voice search is a technology that allows users to perform a search through a spoken voice command. You can ask questions or give commands without using a keyboard or screen. This way voice search users are having almost a real-life conversation with their digital devices and assistants. 
The world's biggest technology companies such as Google, Apple, Amazon, and others have introduced intelligent digital assistants integrated into their products. For example, iPhone owners can ask Siri where the nearest wellness hotel or pizzeria is.
Digital assistants are designed to make your life easier and can be used, for example, to operate and control smart home appliances. The owners of Amazon Alexa-enabled devices like the Echo can make online purchases on Amazon. And if a hotel or restaurant doesn't have an online booking service, the Google Assistant powered by Google Duplex AI will call the restaurant to reserve a table for you.
Voice search proves to be not only a convenient but also a faster way to search the Web. An experiment conducted by Standford computer science researchers showed that speech recognition was three times faster than typing on a keyboard. 
What are the leading voice assistants?
Worldwide there is a large number of providers of voice-enabled digital assistants. Some digital assistants can also be used independently of the respective platform. For example, you can easily use the Google Assistant on your iPhone.
The table below gives a good overview of the most important providers that offer digital assistants and shows where the data for voice search, in particular for hotels and restaurants, is pulled from.
Sources: Business Insider | Voicebot | Yandex
Is voice search the future?
According to a recent study, in 2019 51% of the population in Switzerland used voice to conduct searches. Compared to a year prior, it is an increase of 14%. Voice search is gaining popularity in Germany too. There the number of voice assistant users has doubled within a year and reached 30%.
The number of users is expected to increase in the future. As the technology keeps improving, and connected devices keep adding and enhancing voice-enabled functions, there are more and more people who appreciate the convenience and efficiency of digital assistants.
What does voice search mean for restaurants and hotels? 
Voice search is and will be very important for hotels and restaurants because they heavily rely on search engine traffic. Research shows that hotels and restaurants belong to the Top 5 industries found by potential guests via voice search. Therefore, it is essential to optimize for voice search to improve your potential visibility.
Voice search technology has changed the way we search, as interactions with digital assistants are much more conversational. When we search for something on Google, we try to use as few words as possible to get our desired result. On the other hand, voice search keywords are significantly longer than text-based searches.
Voice technology is able to follow everyday language use, so users can give commands as if they were speaking to a human. For example, we can ask "Where do I find a Neapolitan pizza in Zurich?" or "Which hotels in Zurich have a swimming pool?". As a result, only a limited number of results are displayed. You need to actively click further to see more results.
What does voice search mean for the future of hotels and restaurants? The goal is to make it onto the list of results as often as possible. This means that you should adapt your SEO strategy to cover possible questions about your business from potential guests.
Tips and tricks: how to optimize for voice search
1. Use conversational keywords
Most voice searches are done using natural or conversational language. People search the way they talk in real life. In order to succeed in voice SEO, we recommend focusing on conversational keywords.
Tip: Use online reviews to find out what your guests write about your business and which keywords they use. 
2. Build pages that give detailed answers to the most frequently asked questions (FAQs)
Voice searchers are often looking for answers to questions "Who," "What," "Where," "When," "Why," and "How". Your content should give direct answers to these questions. So we recommend making a FAQ page to address these queries. The answers should be precise but not too long. 
3. Optimize your website for mobile 
An analysis of search behavior shows that mobile devices are becoming more and more important when searching the Internet. We are shifting to a mobile-first world, and voice search is more mobile than ever. By optimizing the website of your hotel or restaurant for mobile devices, you also improve your visibility via voice search.
4. Optimize your Google My Business Listing
With Google Assistant, Google is one of the biggest providers of voice search. Also, other voice assistants and smart speakers pull their information from Google. It is therefore important to follow traditional SEO strategies as well.
Manage your Google My Business listing and keep your business information accurate and up-to-date. Besides, it is important that you respond to your online reviews. In our Google My Business Guide, you can find more information about how to optimize the Google My Business listing of your hotel or restaurant.
5. Google Duplex
If your restaurant or hotel doesn't have an online booking service, you can still receive bookings via Google Assistant. In order to benefit from this feature, go to your Google My Business listing and accept Google Assistant calls in the Info section. This will allow Google Duplex technology to make calls on behalf of users to book with you. 
Voice search is a major trend that is here to stay. Searching by voice is not only more convenient and efficient, it is also very popular with younger generations.
The impact of voice technology on SEO is certain, therefore, it is crucial that voice search optimization is part of your SEO strategy. This will help you stay ahead of the competition and ensure smart devices recommend your business first.
With our tips, you will get one step closer to this goal and be able to win potential guests who are looking for a hotel or restaurant. If you have any further questions about voice search for hotels and restaurants, please feel free to write a comment below or contact us directly.
How good is your business?
We calculate your Online Reputation Score based on your customer feedback.
About the Author
Darek's passion is for social media and customer experience. At re:spondelligent, he takes care of the company's digital presence and supports customers in their successful online review management.