Google My Business Photos: 5 expert tips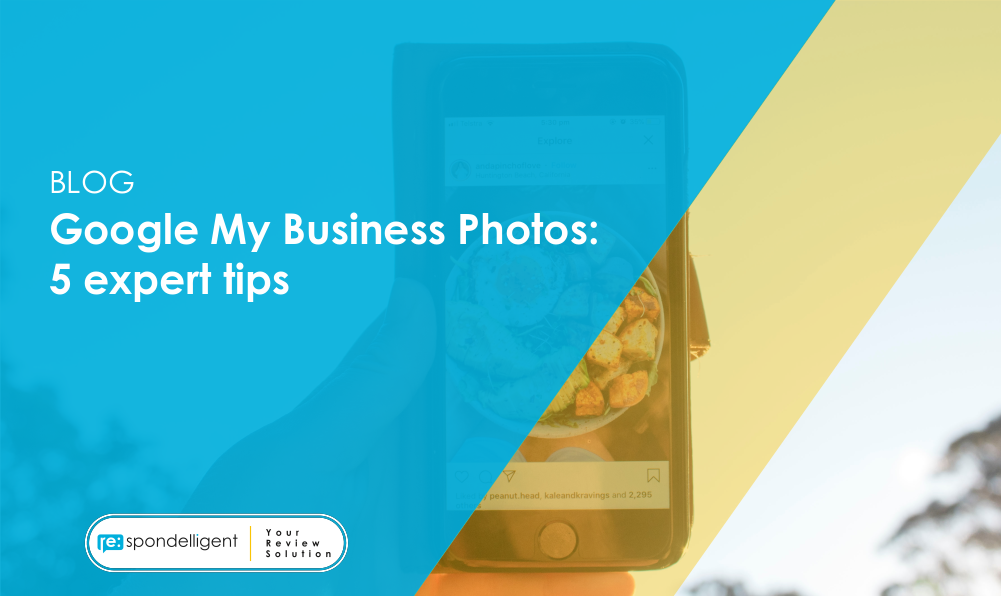 Y
ou already know that optimizing your Google My Business listing helps you strengthen your SEO and improve your online reputation. One of the first things that user check on your Google My Business page are images. It's no surprise that images influence a lot how your business looks online.
According to Google's data, businesses with photos receive 42% more requests for driving directions and 35% more clicks through to their websites than businesses that don't have photos. This shows how essential it is to manage and optimize your Google My Business photos.
We've collected 5 expert tips to help you achieve your Google My Business success.
1. Use high-quality photos for your Google My Business listing
The photos should be high-quality, engaging, and inviting guests or customers to visit your business.
What are high-quality photos that will make you look best on Google?
Ideally, you should get a professional camera or hire a professional photographer to make good photos of your business.
To regularly post photos, for example, of the new menu creations at your restaurant, you can't always rely on a professional photographer. It's nowadays possible to make excellent photos with a smartphone. Lots of tutorials, tips, and tricks about food photography are available online. 
Tip: Make sure that your photos don't look too "stylized", your customers know when photos are too perfect. Also, stay away from stock photos. They'll be found and removed by Google because they don't provide an accurate depiction of your business.
Restaurants often add photos of empty dining rooms and tables. We think it's more realistic to add photos with guests on them. You should, however, ensure that the people on your photos are not identifiable or you have got permission to use those photos on your website or social accounts.
Which types of photos can you add to your business listing?
Logo: This is the photo that Google uses in a circle next to your business name on your Google My Business page.
Cover photo: This is a photo that best represents your business. By setting the cover photo, you tell Google that you want this photo to be the first image for your business.
Additional photos: Here you can select different photos that describe your business. For a restaurant, for example, Google has the following categories of images: 360° view, Interior, Exterior, Food and drink, Menu, and Team.
Which format should Google My Business photos have?
The resolution recommended by Google is at least 720 pixels wide by 720 pixels tall. The size should be between 10 KB and 5 MB, and the format – either a JPG or PNG.
Do you want to know the photo requirements for Google Posts? Read here.
Tip: Make sure that your photos are properly cropped. Google My Business photos show up as a square on mobile, tablets, and desktop. 
Upload the photos that perform well in both square and landscape format. If the important part of the image is in the middle, the photo will look good even if it gets cropped.
Google's algorithm determines which businesses stay on top of search results. One of its criteria is whether a Google My Business listing is frequently updated. Also, customers would rather choose a business that has up-to-date information and photos.
Google shows the latest photos in a separate tab and puts them in front (after All). On mobile, it's also written when the latest photo was added. Since the photos are displayed in chronological order (from newest to oldest), the recent photos seem to have an advantage.
We recommend uploading photos regularly (every week if possible) and a variety of images, including the exterior, interior, product, and staff photos. If you have multiple locations, it's a good idea to upload photos unique to each location wherever possible.
Google distinguishes between photos posted by the owner and by customers. If a business uploads the photos, they'll be tagged "By owner". When adding photos, you have better control over what users see when searching for your business. However, there is no guarantee that your own photos will be displayed more prominently.
How can you add photos to your Google My Business listing?
Sign in to your Google My Business and open the location you'd like to manage
In the menu on the left, click Photos.
Choose the type of photo you'd like to add (for example, Interior) and click Add (blue plus button in the top right corner).
Upload the photo from your computer.
You can do the same in Google My Business app on your Android or iPhone or from your Business Profile on Google Maps.
Can you influence which Google My Business photo shows first?
There is no way to arrange the photos in a custom manner but you can set a cover photo. This way you can recommend which photo will show up first for users.
Can you change the category of the photo after uploading it?
Yes, you just need to open the photo in question and click on the little "i" sign. There you can choose a different category.
Can you remove photos from your Google My Business listing?
Yes, if these photos were added by you: in the menu section Photos, go to photos "By owner", click on the photo you'd like to delete and then press the "Delete" button.
If the photo was added by a customer, you can request for it to be removed. In order to do it, find the photo you'd like to flag in the Photos sections of your Google My Business profile or in Google Maps and click Flag in the top right corner. For more details read our previous post "How to delete a Google review". 
3. Optimize your image information
The information of images is an important component of successful SEO. Therefore, it's recommended to always rename each image with the proper keyword before you upload it to your Google My Business listing. For example, instead of "IMG_123" write "Traditional_Swiss_macaroni". Adding tags and descriptions (that include a target keyword and location name) to your images will also help to identify them as being relevant to local searches.
Tip: Don't spend time on geotagging your photos. According to John Mueller, Senior Webmaster Trends Analyst at Google, it won't have much impact on SEO, so it's not worth the effort. 
4. Review photos added by your customers
As with Google reviews, anyone can add a photo on your Google My Business page. This way Google makes sure that users get the "real" impression of your business. But it may be that customers upload unflattering photos or photos that are completely irrelevant to your business. Therefore, it's important to monitor customer photos. If you notice that a photo uploaded by a customer violates the Google Maps photo policies, you can request for it to be removed, as described above. For more details on how to delete a Google review from your business listing read our previous post.
​5. Check Google My Business insights about photos
Google My Business provides useful insights about your listing's performance. When logged in to your account, click Insights in the menu on the left. If you scroll down, you'll see two graphs "Photos views" and "Photos quantity".
In the first graph, you can check how often your photos get viewed compared to other similar businesses (for example, other restaurants in your area). The second graph shows the number of photos that appear on your business, uploaded by you or your customers, compared to photos from other businesses.
Such insights can help you understand how popular your images are and which images bring better results.
​We hope that you found this overview helpful. If you have any questions about managing Google My Business photos, please don't hesitate to leave a comment below.
Do you want to optimize your Google My Business listing? Contact us
About the Author
Natalia is a Co-Founder of re:spondelligent. She is passionate about helping businesses manage and respond to their customer reviews and loves sharing her industry and marketing knowledge to help brands succeed.